Heavy-duty hoists are one of the most significant purchases you can make for your heavy-duty auto shop or garage. However, choosing the perfect one can be difficult with so many brands and models to choose from.
On this blog post, we'll go through some of the most popular heavy-duty hoists on the market.
Chain Hoists
Chain hoists are popular components used to lift and lower heavy loads, i.e., heavy-duty vehicles in various applications. There are hooks and chains attached to these hoists. You may hoist your vehicle vertically using the hook and chain connection. This attachment can be powered by electricity, pneumatics, manually, or hydraulics. You can also choose to permanently or partially lock the chain hoist depending on how often you lift you use it.
A chain hoist is made up of two chains and a gear. A hand chain, while the other one is the load chain. A user pulls the hand chain while the load chain raises the attached object. A set of gears on the chain hoist enhances the force necessary to lift the hand chain. When the operator pulls the hand chain, multiple gears work together to provide power and lift huge items. For more information on chain hoists, check out the guides by Lifting Gear Hire & Sales.
Here are a few examples of chain hoists.
Hand Chain Hoists
Hand-operated hoists (also known as chain hoists or pulley blocks) are lightweight lifting devices that come in several designs. This hoist consists of a top hook suspension, integrated trolley, and push and chain drive trolley. They easily adapt to various work scenarios and environments, including both permanent and temporary installations.
Ratchet Lever Hoists
Another high-duty chain hoist is the ratchet lever hoist, often known as a tow lift. It also can pull, relieve tension, and hold heavy objects like vehicles. They are also highly adaptable hoists. These hoists are built out of a variety of materials. These include pressed steel, cast iron, and aluminium.
Compressed Air Hoists
The pneumatic chain hoist or air hoist is powered by compressed air instead of a power source. Air hoists have a 100% duty cycle, one of their key advantages. Pneumatic lifting chain hoists, in particular, are suited for continuous usage, such as in heavy-duty auto shops, while fixing components like motors when they overheat. Its speed is adjustable, and the more buttons the user presses, the more air flows through the valves.
Electric Chain Hosts
An electric lifting chain hoist is controlled by a hand button or a radio remote control. It comes with a hook suspension or an integrated manual or electric trolley. Low-speed, high-speed, and variable-speed hoists are available. The hoist can be supplied with a power supply and bespoke hoists suitable for various environments depending on user requirements.
Hydraulic Hoists
The most frequent type of lift is a hydraulic lift. It works based on an electric pump forcing pressurised hydraulic fluid, typically oil, into the jack lift system, with a piston in the elevator's cylinder pushing the car up and down. These hoists mainly consist of surface-mounted lifts, typically bolted to the garage floor. Some of these surface mounted lifts include the following:
Two-Post Lifts
Two-post lifts are the most common lift and are widely used in the vehicle repair sector. These hoists come in many layouts and employ a pair of arms to attach the chassis and lift the automobile. The tires and hydraulic cylinders are also easily accessible to mechanics. They are by far the most cost-effective hoists on the market today, and they are ideal for basic maintenance and repair. They give mechanics the room and independence they need to work efficiently on the vehicle. These hoists are appropriate for various jobs, including working on transmission, clutch repairs, cable installation, oil changes, and exhaust system maintenance.
Scissor Lifts
A hydraulic scissor lift is a lifting device that utilises a frame to keep the scissors horizontal to the ground. They adjust the vehicle's height for maintenance operations by moving up and down. These vehicle lifts are used in the automobile industry for various purposes, including manufacture, maintenance, and repair.
In Ground Lift
Underfloor lifts are hoists with lifting units built beneath the garage floor. Most modern subterranean lift manufacturers have devised systems that incorporate all hydraulic components in a single enclosure. Hydraulic leaks are less likely to contaminate the soil due to this. Regardless of the type and weight of the vehicle being lifted, these lifts utilise one or more hydraulic pistons or scissor mechanisms. One or two pistons are used in lightweight lifts. For practically all types of automobiles, several subsurface lifts are made for maintenance or repair services.
Mechanical Screw Drive or Mechanical Worm Drive
Screw driven hoists are a popular type of home elevation system because of their ease of use, low cost, and low maintenance costs, as well as their ability to save space. A huge metal screw connects a platform or cabin to a nut from the top to the bottom of the lift, which pulls the lift upwards or downwards as the motor rotates the nut. An excellent example of such a hoist is the double column screw lift.
The most significant benefit of this sort of lift is its straightforward design. It seldom breaks parts due to its simple design, and even if it does, finding a replacement and repairing it yourself is straightforward. The screw lift, on the other hand, is relatively noisy and costly to run. This lift also consumes energy during its operation to keep it running.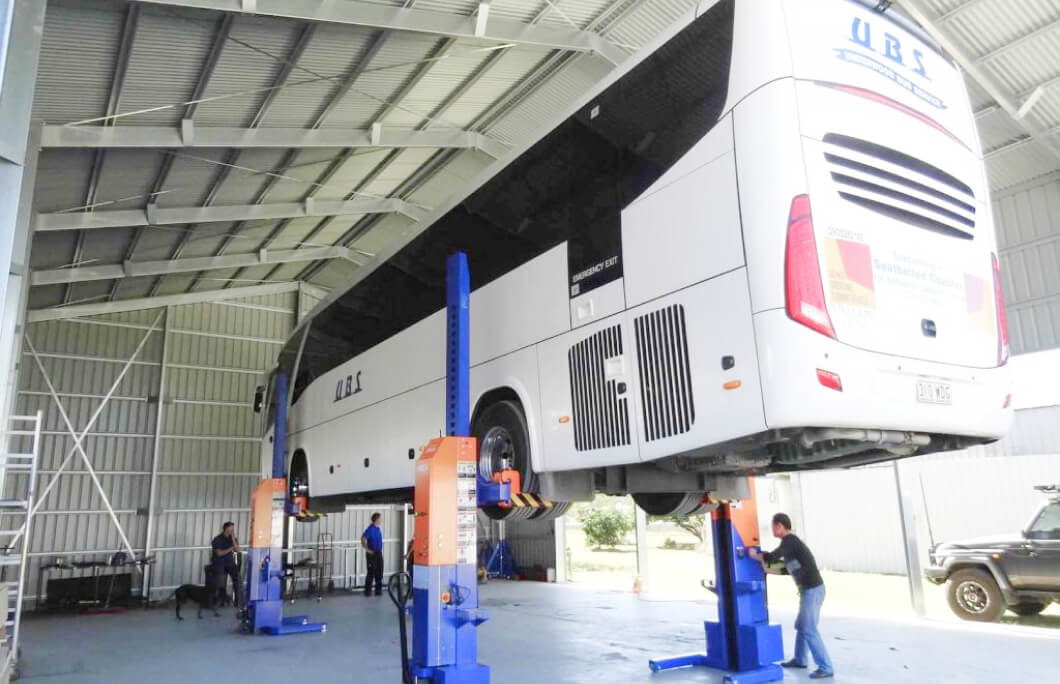 Six Benefits of Mobile Lift Columns
The Inca Lift mobile column lift is an excellent example of a space-efficient mobile column. These columns don't require a lot of permanent room since they can be rapidly stored out of the way. As a result, they're ideal for both small workshops and larger companies with multiple jobs.
Mobile column lifts are a cost-effective method for lifting. Compared to typical pits or four-post lifts, these result in reduced construction expenditures, especially when considering the additional ground conditions expenses associated with alternative solutions. These columns offer a choice of customisable financing alternatives to help you save even more money on your next project. Using a used mobile column lift can save you so much money while assuring you that the job will be done.
After being properly educated, mobile column lifts are incredibly safe and straightforward to use. Various online mobile column training programs guarantee that you will have all of the information you need to operate your equipment safely and efficiently.
These hoists can lift various vehicles, including vans and minibuses, coaches, lorries, etc. These lifts are ideal for the most rigid vehicles, with a lift capacity of up to 60,000 kg. They also have a safe workload of 7,500 kg per row and a set of up to 8 workers.
The mobile column lift was created with the operator in mind, making every step of its assembly a breeze. The column's function is simplified by automatic steering, and the rest of the setup is facilitated by a smooth, adjustable fork.
Excavation is not required for above-ground mobile lifts, and some of them can be backed by a 110V battery. This decreases the environmental impact of your shop while also saving money on electricity. You can find more information on MLC's here.
Conclusion
Before purchasing any heavy-duty hoist, you should ensure that you are well informed. This article could be your guide.