Safety and versatility are paramount when running a business specialising in heavy vehicle and asset repairs. You need to have sturdy vehicle lifting equipment that you can trust.
Whether you are just starting or have years of experience using a workshop hoist, Inca Lifts can meet your needs efficiently and at a fair price.
Ten Ways You Can Use a Mobile Column Lift
Having the right equipment to get the job done is a non-negotiable part of any business. However, many business owners want versatility and are reluctant to purchase equipment if they see it as a uni-tasker. In the case of the mobile column and hoist lifts, it offers more adaptability than meets the eye. Here are ten ways you can use a mobile column lift and get the most for your money.
1. As a Way to Enhance Safety at Your Shop
Getting the job done safely is always on the mind of employers as well as employees. Having Inca vehicle lifting equipment will make your workshop safer by
Freeing up space, so tripping is less likely
Automatic safety features are standard
Independent locking systems on each column
A computerised rotating encoder maintains column synchronisation for all wireless hydraulic posts
Mechanical columns have high tensile screws and nuts, backed up by safety nuts
2. Flexible Lifting Options and Reduction in Job Time
Improving efficiency through the flexibility of use ensures your workshop gets the job done quickly and allows for more work to be completed. Though Inca Lifts attachments assets can be lifted in a range of different ways to allow complete access to any part of the asset.
3. Maintaining and Repairing Equipment
Transport heavy duty mechanic and farmers in the wheat belt (and everywhere) depend on timely maintenance and fast fixes to keep their equipment moving. For smaller operations, equipment that is out of commission for extended periods can spell disaster. Inca Lifts gives you a multitude of configuration options for mobile hoists. You can easily adjust the columns to save time.
4. Maintaining Control
Keeping control of the asset when lifting or lowering is paramount to operator and asset safety. Safety is paramount to Inca's products and as such all include several safety limit switches and features to keep the operator and assets safe.
5. Lifting Busses
Bus operators, repairers and builders require workshop hoists that operate with accuracy, because of the bus's length, there is no margin for error when it comes to weight distribution. Mobile column lifts allow for the columns to be spread where needed to ensure asset safety.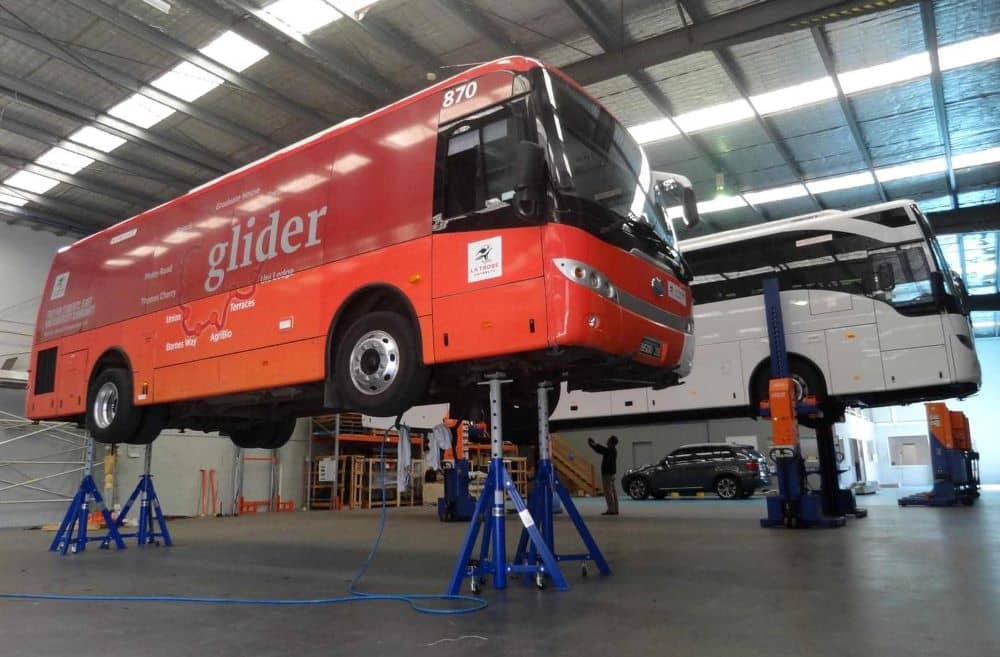 6. Maximising Floor Space
When the size of the vehicles you work on changes regularly, you need to make the most of your shop space. Using a mobile workshop hoist instead of permanently installed vehicle lifting equipment gives you the ability to work on a greater range of equipment both inside and outside of a set location.
7. To Service Mining Equipment
Being able to move your operation outdoors is one of the truly brilliant aspects of working with mobile vehicle lifting equipment. So, if a client needs massive mining equipment repaired, you can get them moving again with minimal fuss.
8. Eliminate Hazardous Wires
Power cables can be a tripping and electrocution hazard in even the neatest of workshops. Many employers incorrectly believe their workers know the wires are everywhere and will automatically take care not to trip. However, on a busy day, the thought of watching the floor for wires does not frequently occur. By using wireless mobile workshop hoists, you can eliminate at least some of the potential dangers.
9. Help the Environment
The notion of mobile columns helping the environment does not immediately come to mind. However, less energy is used because of the powerful battery running the hoists. These batteries do not need frequent charging, and their long life also helps conserve power.
10. Lifting Trucks of All Sizes
Because you never know what will pull up to your bay next, your operation needs to adapt at a moment's notice. With mobile column lifts, you now can work on vehicles of all shapes and sizes.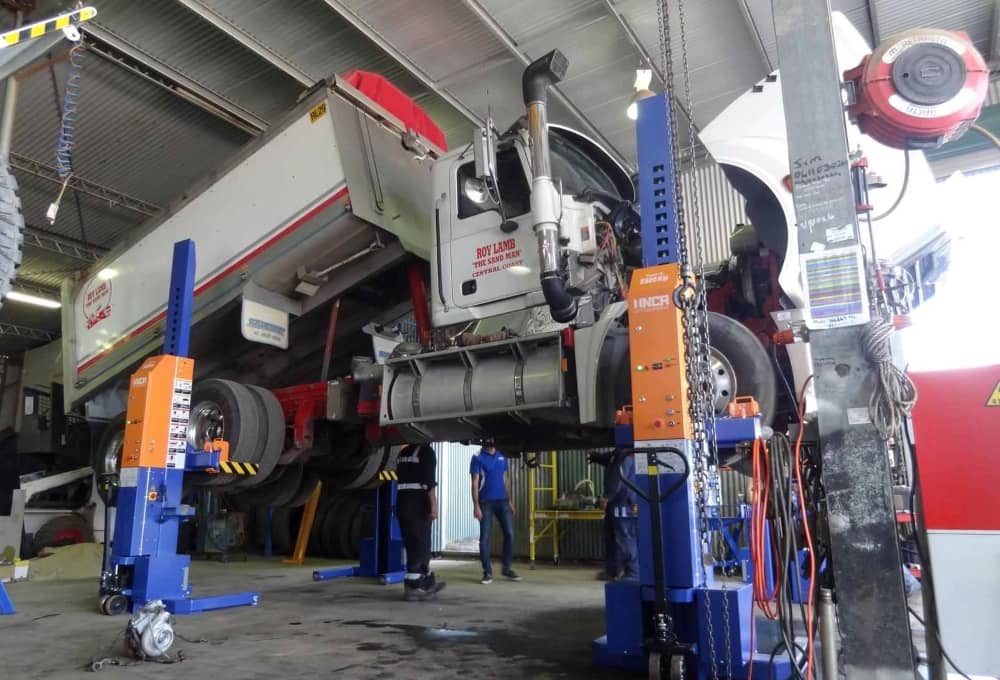 How Mobile Column Hoists Help Make Life Easier
Your business will never be the same after adding mobile hoists to your workshop. With the correct mobile column configuration, you can expand your company and workload with increased safety, efficiency and ease of completing work. You will be able to confidently accept a wide variety of vehicles of nearly every size.
Additionally, you will gain,
Increased efficiency in your workshop
More useable space in the shop
Improved safety for your staff and any visitors
Options to reconfigure the hoists to help with many projects
The ability to work at different heights
If you believe your business can be improved by adding lifts to your workshop or garage but are unsure about the products that would benefit you the most, feel free to reach out to us at Inca Lifts. Our experienced staff can help you figure out what lift configuration is right for you.