One key to understanding which type of equipment you should invest in for your shop is learning about the equipment and how it works.
What is a Hoist?
Hoists are a valuable asset to your workplace as they can lift and hold significant amounts of weight. Some jobs are impossible without one. At Inca Lifts, we offer a line of hoists that is second-to-none. Our experienced team understands the specifics of the products and is happy to help you choose the correct hoist for your job.
How Do Hoists Work?
Inca Lifts offers two types of lifts for our customers. These are the QJZ, which is mechanical, and the second, the KP, which is operated by a hydraulic system.
The QJZ is a tough piece of equipment primarily used to lift heavy machinery, like buses, trucks, and other large assets. When using a hoist, you improve safety in your shop as well as efficiency.
Key Facts about the QJZ:
Three phases 32 amp power is necessary to operate the posts
The power drives the motor turning the screw and drive nut lifts as well as lowering the carriage based on the operator's need
A safety nut trails the drive nut providing redundancy as the drive nut wears down until it needs replacement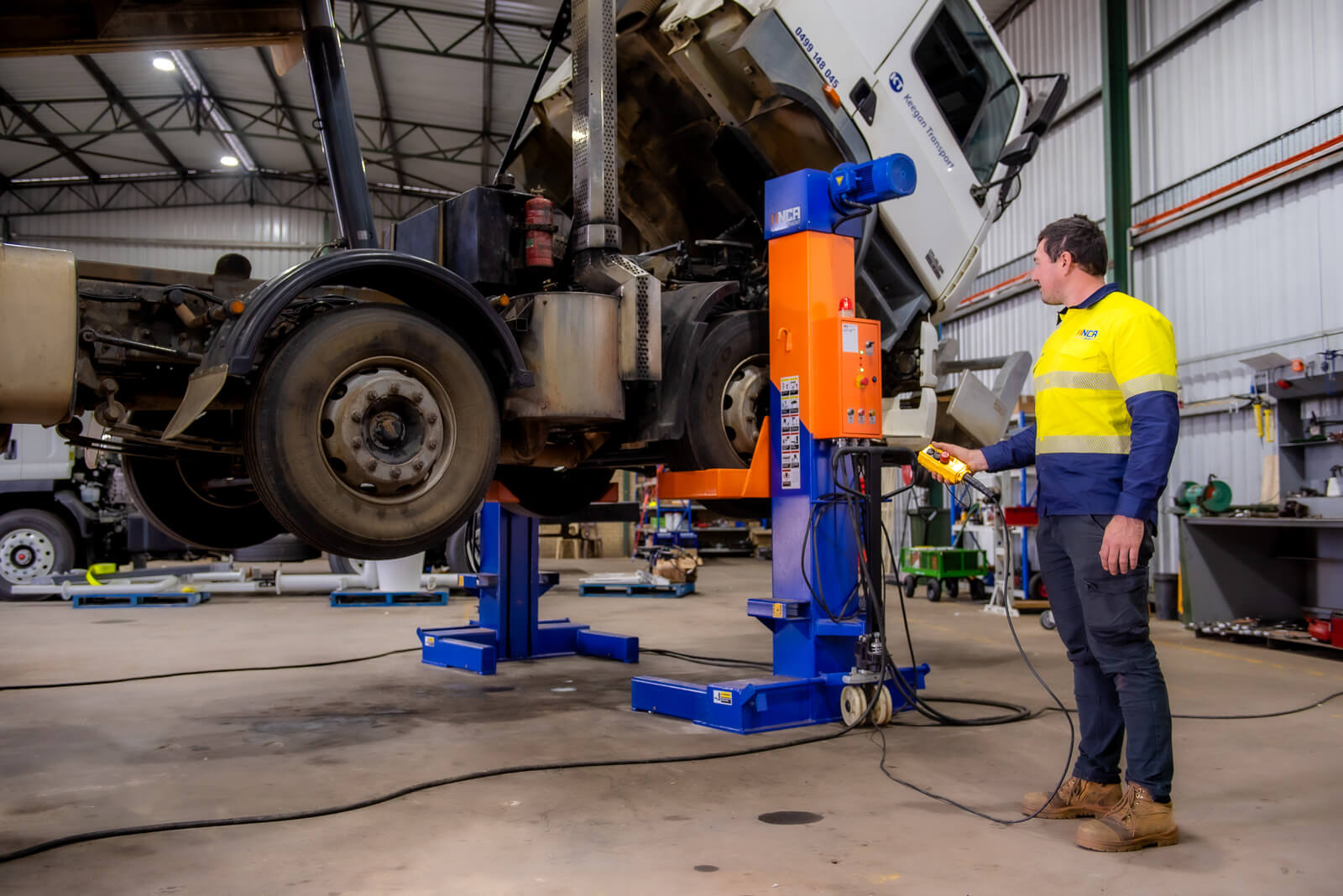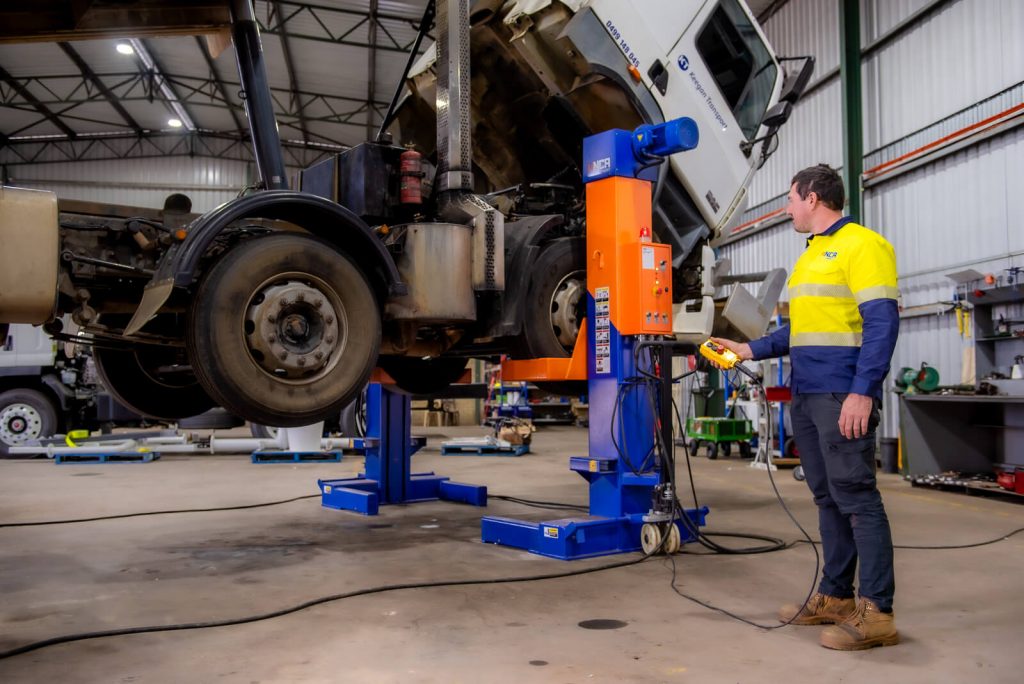 The KP is available in two models, the KP55 and the KP75. The weight limit is the most significant difference between the models. Both the KP55 and 75 use a system of hoist hydraulics.
Key Facts about the KP:
Two deep cycle batteries power the posts
The KP 55 and KP 75 are wireless hoists. This is often a safety advantage because it reduces the chance of tripping on wires extended across the floor of your shop
Hydraulic fluid from the reservoir is pumped into the hydraulic ram to lift the carriage
To lower the carriage, the hydraulic fluid is released from the ram
Safety systems are built to ensure that the posts operate safely. Keeping carriage heights level and raising and lowering at safe speeds are examples of two crucial areas of concern.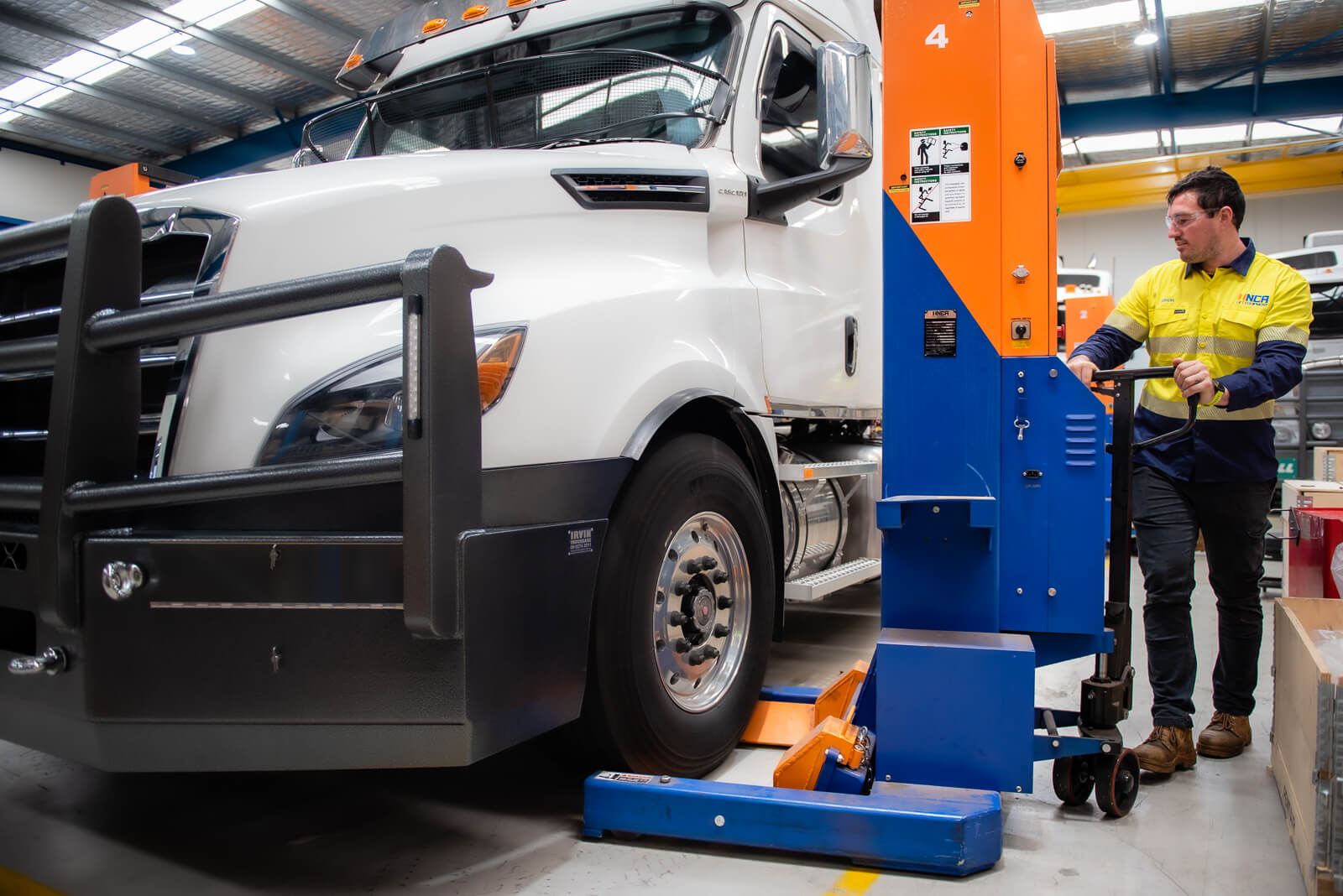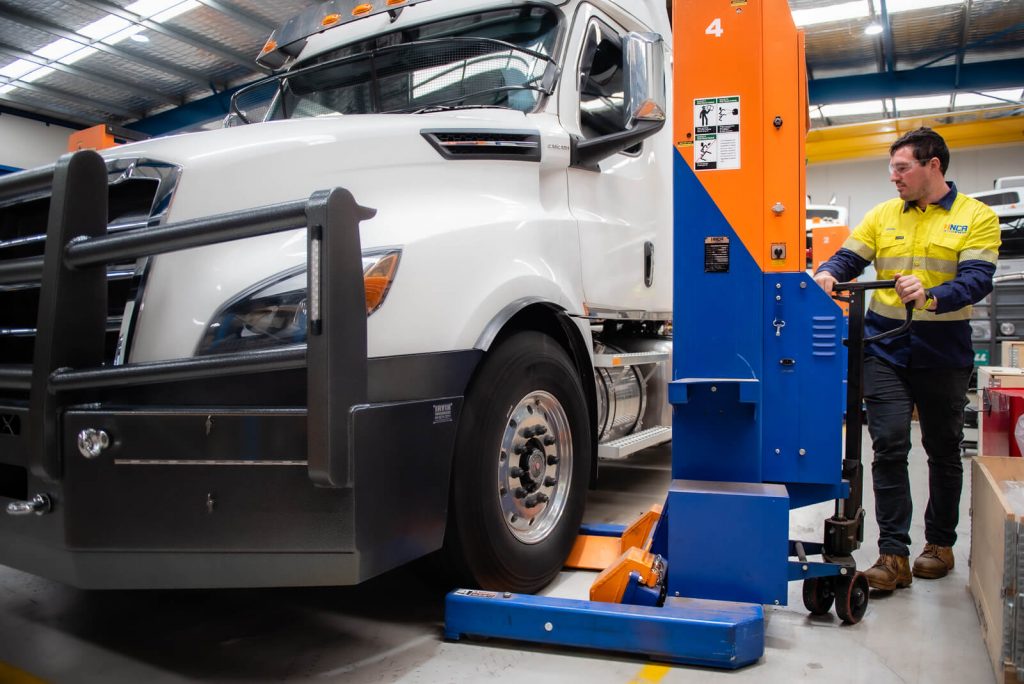 What is the Lifting Capacity of the Hoists?
Generally speaking, the total lifting capacity of each post varies based on the number of posts in the set. Detailed information regarding lifting capabilities for groups of four and six posts, as well as individual posts, is available on our Product Pages.
QJZ 5.0T lifts five tonnes per post, equaling 20,000kg per 4 posts and 30,000kg per 6 posts.
KP55 lifts around 5500kg per post 22,000kg per 4 posts and 33,000kg per 6 posts
KP75 will lift 7500kg per post 30,000kg per 4 posts and 45,000kg per 6 posts
How Many Hoists Make Up a Set?
There are several ways to configure a set. They can be made with two, four, or six posts. A vital point is that there are a balanced number of hoists to keep a vehicle of any size safely balanced.
What is a Hoist Used for?
Hoists typically have several different uses.
Lifting trucks for servicing, repairs, and unplanned work
To lift buses for servicing, repairs, and impromptu work.
Lifting machinery and equipment for servicing, repairs, and unexpected work
Lifting trailers for servicing, repairs, and ad hoc work.
Lifting light vehicles such as four-wheel drive models for servicing, repairs, and unforeseen work.
Regardless of the size of your company or the assets you service, Inca Lifts has the right hoist for your job. Feel free to reach out to us with your concerns or questions; one of our experts will get you the information you need.